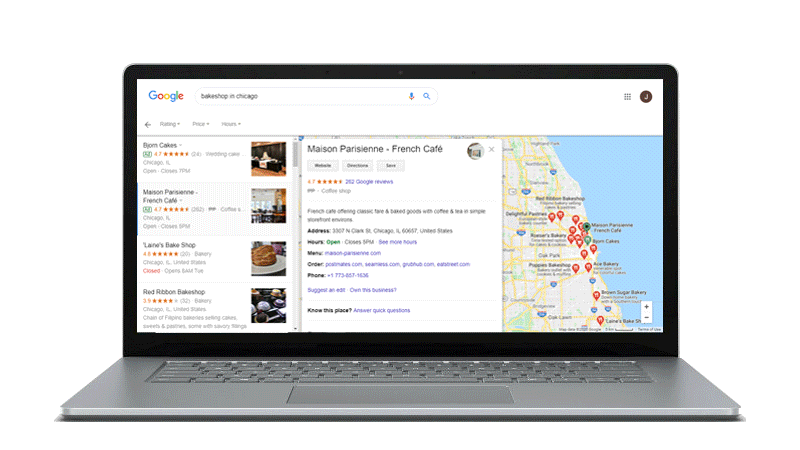 There are many ways our Google My Business Services can benefit you.
Discover our GMB Management Service! Get a free consultation!
Google My Business has exploded in recent years to become one of the most high performing, powerful tools in SEO. Make the most out of your Google listing with the help of a GMB expert.


★★★★★
"Bruce Jones was incredibly knowledgeable in helping us with our Website SEO and Google Business Profile. We are very grateful!"
Lindsay Blades

★★★★★
"After hiring expert after expert who did not do anything for my sites, I found Bruce. In just one hour, I learned more actionable SEO steps from him than I have over the last 6 years of my own DIY research. He wants you to be successful and you can tell he knows exactly what to do to get your there."
Jackelyn Ho

★★★★★
"Thank you for helping us set up our language school's Google my Business in the Philippines. Great help, salute!"
Keynes International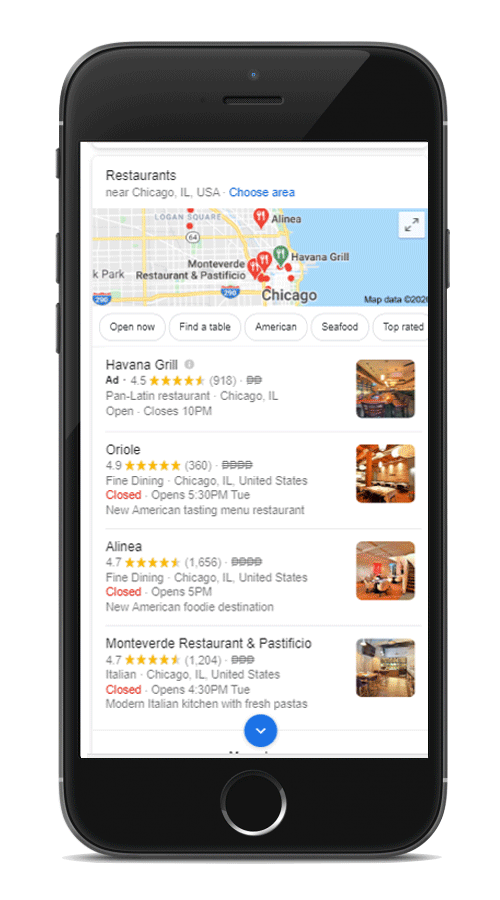 Our GMB Management Services
will help you:
Amplify your Google and online presence
Increase leads and conversions
Enhance engagement
Improve your online reputation
Boost local rankings
Gain a competitive advantage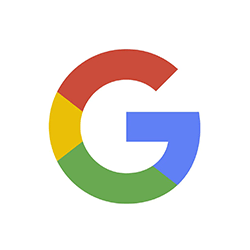 Google is your selling space
Google has become the transactional platform where the vast majority of business takes place on some level. Whether it is a potential customer looking for a business to meet his needs, a potential customer looking up your business specifically, or a current customer trying to find you for location or other information, Google has a presence in just about every business transaction.
That is exactly why you need to ensure that a big percentage of your SEO efforts are dedicated specifically to your Google listing and the first impression it offers.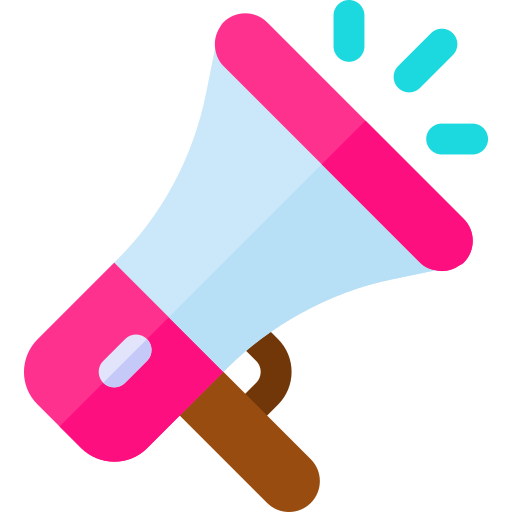 Command attention and get noticed
The basic elements for your Google listing are the building blocks for your ability to rank. Working from the major points to the finer details, optimizing your GMB listing includes everything from categories to a custom description, to a precise map pin location, and more. Think of us as your G

oogle My Business partners.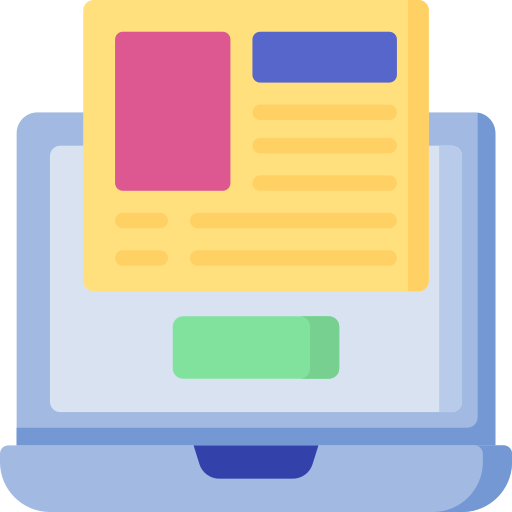 It is important to use and strategically manage and optimize all features of Google My Business in order to get a competitive edge. Making use of every feature that Google makes available to your business, and staying on top of their upkeep (for example offering monthly photo updates) are the leverage that your business needs.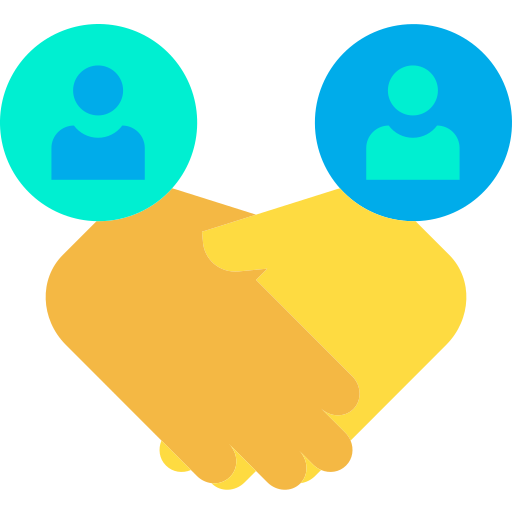 GMB listings are also valuable opportunities for you to show your customers who you are. They will judge you based on the frequency of your updates, your tendency to reach out to customers, show them you are listening, and creating positive relationships with them. Our GMB management services offer help when it comes to responding to reviews, answering customer questions, and maintaining a good reputation.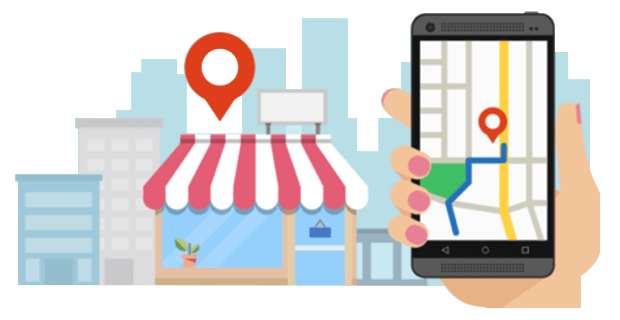 Google My Business (or GMB) is a business listing within Google that is particularly beneficial to "local" businesses, or businesses that rely on their location for the product or service they offer (e.g. a physical store or a business that caters to one specific city/region/etc). As such, most businesses benefit from GMB. 
What mainly sets GMB apart from other directories is the amount of detail that can go into the listing; and as Google continues to give GMB listings more importance and expand their capabilities, the detail that can go into a listing is only getting more complex. While GMB listings used to be "optional" for businesses, they are now just as important as a website. Given the importance and detail, it is imperative that businesses get their profiles set up and optimized correctly.  Top services in Google My Business today.
Aside from more traffic to your website, better search engine rankings, and more leads, there are many benefits for investing in your Google My Business: 
Google Map Search optimization

Ranking in Google's local 3-pack

Star ratings and reviews

Increased in-store visits and phone calls

GMB listing optimization

Increased engagement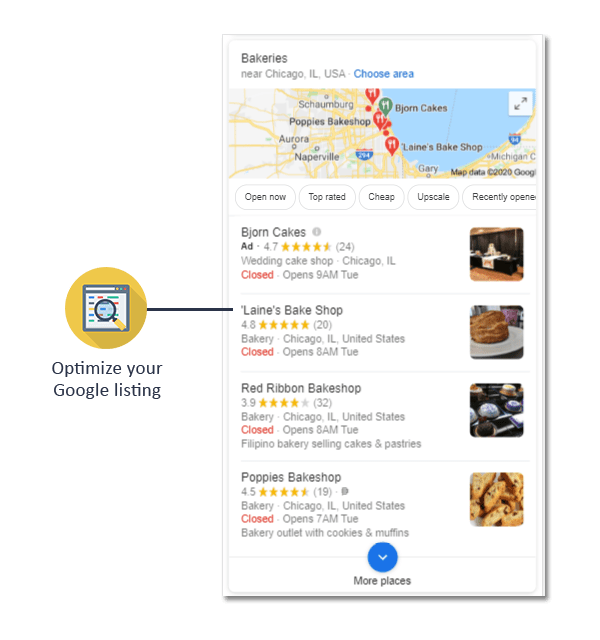 A GMB Management Service to help
rankings and beyond
Google My Business management services are specially designed to simultaneously improve your SEO and GMB page for overall improved search results. When you optimize your Google listing, you are not only targeting top ranking factors for your online presence, but also covering certain off-page optimization techniques that take place away from your website and are gaining heavy traction in today's SEO playing field.
Active reputation and relationship management
Google Reviews and Google Questions and Answers are two of the most powerful features, both of which merit special attention because of their prominent placement within your Google Profile. Exceed expectations by developing a custom review strategy that aligns with your business ethos and helps build brand loyalty while influencing searchers to become clients. Anticipate searchers' needs by getting FAQ answers published even before potential customers have the chance to ask, so that not time is wasted.  All those are the GMB optimization tricks we use to get your listing to the top.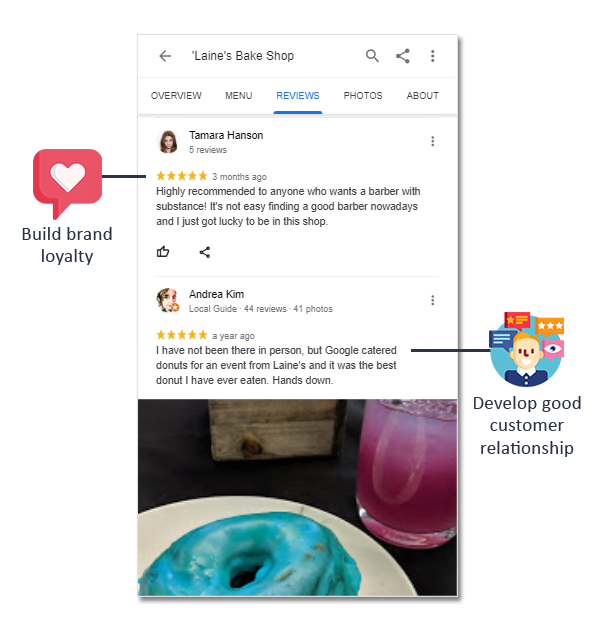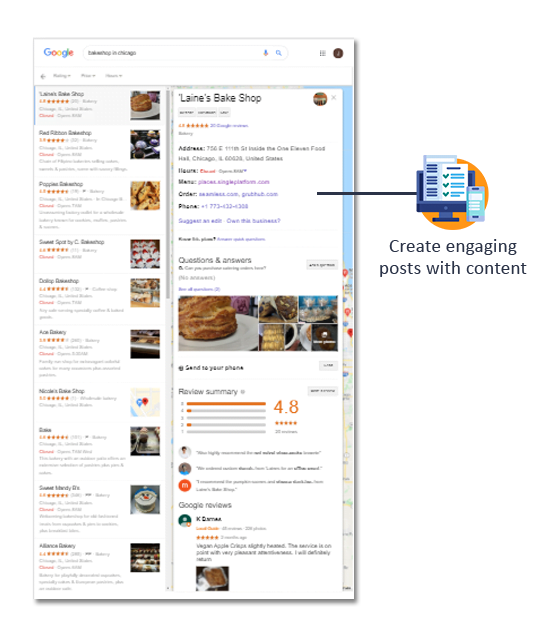 Posts and updates for increased engagement
Google Posts is a special feature within your Google listing which offers an opportunity for creating engaging posts with content on current specials, events, new products or services, etc. These posts will make your business stand out and offer a space for engaging with customers directly in the search results. A GMB management service specialists can work with you to create compelling content and put in all the right features and detail to not only get you more engagement, but more business as well.
Monitoring and knocking out GMB competitor spam
Beyond standard GMB management
you can also hire us as a Google My Business anti spam report and analysis partner. We review the Google Maps landscape regularly, checking for spam and tactics like keyword stuffing, fake addresses, virtual offices, multiple listings, and other bad practices that manipulates SEO results. We can help to eliminate non-fair competitors and open up new ranking opportunities for your own business.
Brands that show up on Google's local 3-pack get a whopping 70% boost in clicks over brands that don't. Don't let a spammer take your spot!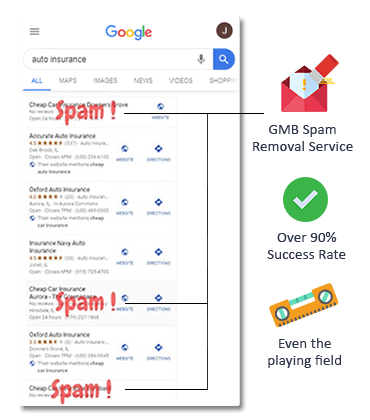 Google My Business Optimization is the Top Ranking Factor for Local Search (44%) according to Local SEO Experts
An optimized Google My Business profile gets noticed more often because Google "wants" to put nice looking listings at the top!
Feature Your Projects
Google my business has many places to feature what's happening at your company. From events, to promotions, to posts and photos put your best foot forward.
Don't miss out on this amazing deal!
Sign up for a year and pay only $299/Mo for 1 Location
$199/Mo for each additional location up to 5.
Custom quote for more than 5 locations
Regular Price for 1 Location
$349/Mo
(no monthly contract)
$199/Mo for each additional location up to 5.
Custom quote for more than 5 locations
Leave Your Google My Business Troubles to Us
For one low monthly fee we optimize, manage, monitor and improve your Google My Business listing on an ongoing basis.  For you that means increased visability and more sales from the people already looking online for your products and services.
We Fully Manage Your Google My Business Listing To Include:

Initial SEO Audit

Listing Optimization

Add Business Categories, Products / Services, and Descriptions

Create 4 Optimized GMB Posts /month

Q&A Creation & Management

1 Promotion or Event /month

Review Responses

Dedicated SEO Expert On Call

Add Business Information 

  Upload 4 Photos or Videos/month

Identify and Remove Spam Listings

Monthly Reporting & Insights

Whitelabel Options Available

And More…
Bruce has been an invaluable resource in getting my business off the ground 7 years ago. His expertise in SEO and his no-nonsense method are one of the major keys to my success. If you want fast results from your website this is the place to come. You'll be amazed at the low hanging fruit, and the simplicity in making your website work for you.
Finding business partners that are knowledgeable, operate with integrity and are truly invested in your success isn't easy in today's world. Bruce Jones is all of those things. I couldn't recommend a business partner any more highly!
Bruce has been an incredibly helpful resource for our mid-size nonprofit organization. He has generously shared his time and talent by walking us through practical and easy-to-understand ways to maximize our online visibility and effectiveness. Highly recommend!
Frequently Asked Questions
Does This Service Help My Rankings
Yes there are many areas of our Google My Business Management Service that have a positive impact on your Business Profile's ability to rank for local keywords. Our service goes beyond rankings, where the primary focus is on increasing your leads from Google, but our ongoing tasks will also have a positive impact on your rankings through:
– Implementing a review strategy, earning reviews and responding to them.
– Optimizing your listing and utilizing all of the available features.
* Increase business engagement signals.
* Remove spammy competitors.
* Increasing user engagement.
What countries do you work In
Our Google My Business optimization & management service is available in the: United States, Canada, United Kingdom & Australia.
What Does Monthly Reporting Look Like?
Every month we send over reports showing engagement, traffic, ranking and more.
How Long Is Your Contract For?
Our service is month to month with no long term commitment, we hope that you continue working with us for a long time, all we ask is 30 days notice for cancellations.
What are the next steps after signing up?
We'll send out a link to schedule a call with your SEO strategist and a link to a questionnaire so we can learn more about your company.