Just two years ago, the number of registered chiropractors in the United States reached 70,000. About three thousand licensed chiropractors work in academe or management roles. If you have been trying to market your chiropractic practice for years and have only gotten lukewarm results, you likely need to start on chiropractic SEO.
What is SEO Services for Chiropractors?
A chiropractic SEO company specializes in your market and allied fields, including the private practice of private healthcare professionals. The process of marketing chiropractic follows a similar route to more 'traditional' private practices like dental offices or family clinics.
In 2022 (and moving forward), licensed holders of the degree of Doctor of Chiropractic Care need to invest more in chiropractic SEO to improve their local presence and attract more business.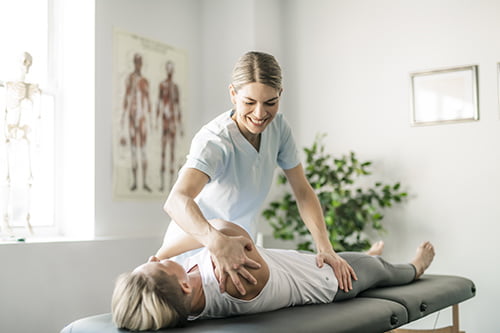 Search engine optimization focuses on correcting and upgrading your website continuously over a period to improve organic traffic, domain authority, and the ranking of your content.
You may have noticed that while you may have a few pages active and some blogs, your organic traffic may be low or non-existent. Since the internet is already billions of pages wide, you must invest in your website to make it relevant for the search terms you wish to rank for.
Nearly all existing SEO services can be used to market chiropractic care. However, even the best practices of chiropractor SEO can be used to improve page structure and metadata if you want to use precepts from that side of the industry.
Since SEO is such a large industry, it's normal to be confused initially about what you need – and that's fine, too. But unfortunately, no one learns SEO on day one or even day 30. Even the most experienced SEO consultant for chiropractors will read about SEO, UX/UI, and search marketing daily. But unfortunately, the true experts only stop learning when they're asleep.
Through technical, off-page, and on-page SEO, a specialist for SEO for chiropractors can take charge of improving your website's traffic and conversions. Consultants can perform regular on-page SEO to increase search engine traffic while improving topical relevance. On-page SEO aims to optimize the bulk of the pages on your website for target keywords.
SEO strategists analyze data from sources like Google Analytics to figure out which search terms or web pages bring in the most traffic, leads, and sales.
These strategies use data analysis to make data-driven judgments regarding keyword targeting and where to focus their optimization efforts for maximum impact.
You'll need to engage a professional consultant to develop a strong SEO strategy for your chiropractic office. SEO professionals are adept at developing a plan to drive results and improve lagging traffic, even if it's been that way.
What Are the Initial Steps to Best SEO For Chiropractors?
Craft the Best, Mobile-Friendly and Responsive Website
Almost half of the individuals who book appointments online complain about a clumsy website or having to wait too long. Sixty percent of patients in the healthcare setting want appointment reminders sent to their phones. Therefore, a clean digital experience is crucial, and having a responsive website is the first step.
The trends in digital healthcare marketing can also be applied to digital marketing for chiropractic care.
A responsive website adjusts to a person's device. Content is easier to read and navigate since the site's elements change according to the browser's aspect ratio. Instead of a patient navigating a clumsy website on their phone, a responsive website would make the page easier to navigate.
Furthermore, having a well-run website will allow you to concentrate on building a solid web strategy that boosts visibility, reach, and conversions. In the end, you accomplish so much more while reducing effort and cost.
Apply Industry-Standard SEO Practices Across Your Chiropractor Website
It is critical to develop a solid and informed chiropractic SEO plan that allows potential customers to find you when they conduct an internet search.
Local search traffic is highly competitive.
If another chiropractic office, for example, has a more effective SEO plan than you, it will rank higher in organic search results than you. A well-targeted SEO approach boosts your total online visibility.
Keyword tools, such as Ahrefs, can assist you in figuring out how competitive the current buzzwords in chiropractic care are.
Choose a relevant keyword for each website page, including social media and blog entries and other information your company provides. These keywords should not be put in stone; monitoring and adapting to keyword performance is critical, especially considering Google's continual adjustments.
Develop a Content Marketing Plan
Creating an effective chiropractic website SEO strategy is practically tricky without the correct content. Professionals must continually provide new content to stay visible and generate leads in today's ever-changing search landscape.
This content will boost your website's rankings and bring in new, much-needed visitors. It will also nurture leads throughout the sales cycle, encouraging them to contact your office for their chiropractic needs.
Create material that allows patients to have a more tailored experience. Consider strategies to please your readers that go beyond the blog and newsletter. What material, for example, will nurture your leads as they move through their journey?
Simple strategies to engage patients include a CTA at the bottom of email updates that encourage clients to read new blog posts or like your new social postings that offer critical practice information or other appealing facts about chiropractic care.
Why Hire a Chiropractic SEO Expert?
Localized SEO helps optimize your chiropractic care website by enhancing your searchability for a specific locality.
An SEO expert can help chiropractors rank for different cities within a state and different states.
While general SEO efforts focus on raising your ranking on SERPs for more organic traffic, local SEO is more specialized because it focuses on optimizing your website to improve your ranking for local queries.
Google is getting more innovative, and the search engine recognizes local search intent to offer the most accurate and valuable results.
Local optimization is a subset of broad search engine optimization and is considered one of the easiest to manage.
Inbound marketing entails various specialized techniques and other creative ways that convince Google to prioritize optimized businesses. The goal is to make your chiropractor website the most visible in your target locales.
Why should anyone bother with local SEO?
Because you already worked so hard in making a beautiful website for others to enjoy, additional local optimizations will help you get noticed by the right people. For example, search engine optimization will improve your search engine exposure by targeting relevant people already on Google looking for what you're offering.
Typically, people won't drive a hundred miles to see a chiropractor. Initially, they'd be interested in someone nearer – like a licensed chiropractor within a five- or ten-mile radius. Viewed from this perspective, local SEO becomes super essential for all businesses. Google's map pack pulls organic SERPs down to prioritize local results.
Optimizing for local search is the most important thing you can do to succeed online and quickly establish your brand authority.
Optimizing Your Website and Google Business Listings with SEO for Chiropractors
Gain Higher Rankings for Searches with Local Intent
Local businesses can gain an advantage over national businesses. Google strives to give the most relevant local results when it recognizes that terms used in a query have local intent.
Local results will always come first, pushing all other pages to the bottom. As a result, taking care of your local optimization can help search engines detect your business more quickly among the competition, deem it the most relevant for a specific local query, and display it first.
Get Greater Visibility in Your Market
One of the most valuable advantages of local SEO is the increased visibility of your business in a specific niche. This implies that by optimizing your business information and content for local searches, your chiropractic practice will be found by individuals interested in what you have to offer.
Statistics established a long time ago that the first five results on Google SERPs receive 67.6% of all user clicks (excluding PPC ads). Therefore, the numbers indicate that if you did your SEO effectively, you have a good chance of being in one of the top five spots, which receive over 67% of traffic.
Otherwise, you'll lose out on potential leads.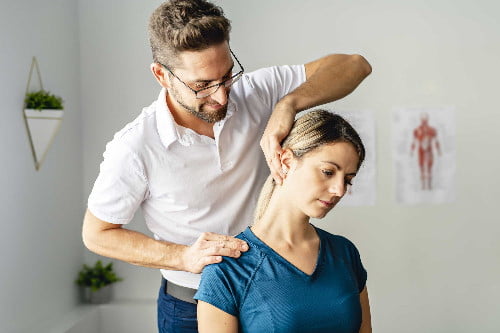 While conversion is crucial, local optimization can help you achieve massive brand exposure and visibility. When a user searches for local businesses and services, Google will prioritize the most accurate local results, pushing non-local results to the bottom.
Even if people didn't pick you out of a crowded field the first time they see your link on Google, they might choose your services later.
Boost Relevant Traffic
It's always been challenging to reach the correct audience. One of the clear advantages of local SEO for chiropractors is that it simplifies getting more traffic. You fill out your Google Business profile, submit your business to as many local business directories as possible, and create a local landing page on your website (if you have one). If everything is done right, you'll start receiving the best type of Google traffic.
Both Google and users appreciate quality material. As a result, your page's exposure will improve when you provide evergreen and unique descriptions to your items and services.
New relevant exposure will generate more leads for your practice. Because of this new, positive trend on your website, Google will gradually boost your rankings, bringing even more potential clients to your website.
It's crucial to have the correct information. To maintain your search engine rankings, you must ensure that your office's NAP (name, address, and phone number/s) physical address, business hours, special business hours, and all other contact information are accurate and current.
You lose prospects if you have a local firm but do not target the local areas. Over 72% of local searches typically result in in-person visits within a 5-mile radius. It means that applying local SEO might increase your chances of receiving the most relevant traffic, and you must showcase your company well to be chosen.
How to Get the Right Backlinks with Chiro Practice SEO?
One of the leading SEO goals of any chiropractic website is to establish a good backlink profile. Backlinks are votes from other websites that your website is worthy of attention and visits.
And no matter what you've read outside this website, let us be the first to tell you that well-wrought backlink profiles do work. If backlinks offered little to no value and were meaningless to search engines, the SEO industry wouldn't be in its current shape or form.
A considerable part of the job of an SEO consultant for chiropractors is to create the strategy that will build the perfect backlink profile for the client's website. Backlinks are not random. Backlinks need to be high-quality and relevant.
Sponsored links don't count, and paying PR networks for a sudden blast of 2000 links won't move the needle. As of late, Google's chief engineers have been evident that PR networks and paid news sites are not the best places to get extra citations. It's OK to have your PR pieces published if you want to, but don't expect miracles.
There are several ways to get better backlinks this year. The simplest way to gain backlinks is to find any unclaimed mentions on social media, blogs, and the internet.
For example, search your name or your office's name and see if anyone's talking about you online. If you see a tweet from a happy client, you can ask that person to link back to a landing page or even the homepage.
Another naturally landing coveted backlinks method is contacting relevant individuals, businesses, and publications that regularly publish "Best of X" articles or blogs related to chiropractic care. You can pitch your chiropractic practice and give them enough material to consider you for an upcoming article or release.
Link building for inbound marketing helps with search engine results. Keyword research helps you with figuring out URLs, title tags, and other meta data. The ROI for SEO for Chiropractors will always be better than using AdWords and other pay-per-click paid search tactics.
Schedule a free online Zoom call to learn how we can help you market your Chiropractor practice to more local customers.