Location-based marketing is recovering from the pandemic, with forecasts indicating an uptick in the next five years. Multiple industries benefit from location-based marketing and GPS systems, including automotive, transportation and logistics, technology and media, education, healthcare, hospitality, and retail. It doesn't matter what your industry vertical is – being available for customers in GPS databases will help you generate more leads and acquire more sales.
Businesses can prepare for a genuinely frictionless future through location-based marketing. GPS is the leading portal for this marketing channel. 
In-person transactions, interactions, retail browsing, and entertainment are no longer what they once were. While the pandemic utterly interrupted corporate operations, it accelerated the adoption of new technologies that were either not on shops' periphery or not on their five-year plan.
It's more important for businesses to connect digital orders with in-person fulfillment. Curbside and in-store pickup services have exploded in popularity, and location data is critical in ensuring that customers receive their orders on time.
Furthermore, research suggests that brands and merchants who can keep pickup time windows under two minutes are four times more likely to achieve customer loyalty and repeat business than those who take more than ten minutes to complete in the parking lot.
Location data gives real-time dwell stats, too. 
Think of it as an automated way for shops to get measurements that can make or break a customer's experience and loyalty.
Consumers' routines have changed, and they are adopting new behaviors that seem to have stuck given the panda. Therefore, understanding consumer travel patterns can be incredibly beneficial to any business's marketing plan, given the various state, local, neighborhood, and even store-level laws.
By evaluating the time of day, day of the week, frequency, and even dwell time of clients, location data can help marketers construct predictive models that will ultimately help businesses thrive despite challenging conditions.
Adding Your Business to Mapping Databases or GPS Systems 
As of this writing, brands like Garmin, TomTom, Atoto, ZHNN, and UNITOPSCI continue rocking the in-dash and mounted GPS markets, proving that not everyone is using their phones for navigation. Nevertheless, GPS devices remain indispensable to consumers and businesses alike.
Knowing how to add your business to GPS databases as a POI or point of interest is crucial for location-based marketing and digital marketing. 
Waze
Waze is ranked second among the most popular navigational/map apps for mobile devices. This year, it has remained relevant with millions of users globally and active communities that constantly update maps, report horrible road conditions, gas prices, etc.
Like Google Maps, you can download Waze instantly and start navigating around any city in the US or abroad. Waze's primary strength is its dedicated global community of users who keep its GPS database updated. If your business isn't on Waze yet, you can easily add a POI through the Waze app (from your phone!)
Open your Waze app and navigate to Reports. Press the Places button and take a picture of the area or spot you want to add, followed by a press on Forward. Pick the right category for the place. For example, a site can either be a business or a private residence. When you're finished, press Done.
Remember that the app retains and displays the Waze username associated with reported places on the Waze database. Therefore, your username will be available to other Wazers. You can also edit or suggest new places through the Waze Map. Finally, visit the Waze forums through your desktop for a better experience.
Below are some best practices when adding photos to Waze and other map apps: 
Submit photos that are crisp and clear.

Only the location linked with the listing should be shown in pictures.

Do not send the same photograph for various locations within a structure, as is the case of multiple commercial establishments in a strip mall.

The more image data you have, the better! The first order of business is to show Wazers how a location appears from the outside. Interiors, food photos for a restaurant, and a gym's class schedule may be approved by the community if they provide positive value to a listing.
Waze images may be rejected under the following conditions: 
If a photo is too dark, grainy, or overexposed.

Fully readable license plates.

A clear picture of a person's face.

Multiple buildings or a darkened street don't link to a single location.

Images that are like one that has previously been approved.

Inappropriate or prohibited content.
Apple Maps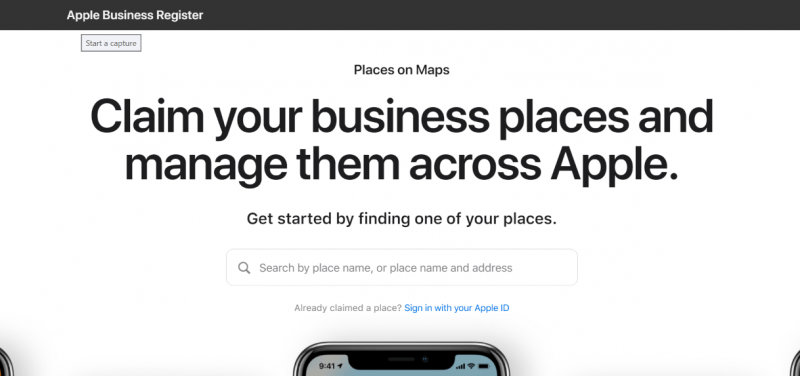 Apple Maps is Apple's proprietary web mapping service that delivers GPS coordinates, directions, and personalized recommendations to users through iPads and iPhones. While users can also use Waze and Google Maps on their iPhones, the default mapping service will always be Apple Maps.
Apple Maps hasn't always had the best track record. It had a rocky start and was plagued by erroneous listings. Tim Cook, Apple's CEO, later apologized for the app's bad start.
On the other hand, Apple is not a quitter, as we all know. Developers are continuously improving Apple Maps. Today, the company is concentrating on developing next-generation, more accurate maps, faster load speeds, and more detail. In addition, Apple is constantly evolving new indoor maps of airports and malls, demonstrating its ability to provide novel tools to assist people in finding their way.
Adding your business to Apple Maps now will help you grab more clients and win market share over local competition.
If you're a business owner, it makes sense to check if your business is already in the Apple Maps database as a POI. If not, you should claim your business so users will see it. If your business is not yet listed, hover your mouse over the search bar until a drop-down option appears (Add a missing place). Then, click the option and sign in to Apple to continue registering your business.
Signing up for Apple Maps gives you priority access to new Apple Maps features. These features are designed specifically for businesses and other kinds of locations. For example, to claim a place, you need to be able to answer a call, then you can upload an official document that proves ownership of the business.
The official document should clearly state the location's name and address. You can add any missing location on Apple Maps, ranging from simple repair shops to schools. You can even register places of worship. Apple Maps offers over 1600 location categories.
Also, remember that Apple Maps offers App Clips that users can use to conveniently complete tasks or actions such as renting a bike, paying for parking, or even ordering their favorite meals.
Newly verified business owners can select which App Clips can appear on the business' Place Card at the Apple Business Register. Then, when clients visit your store, you can provide them with the unique App Clip Code associated with your location. Your customers will then scan the App Clip Code to get that excellent online experience for a more frictionless interaction with your business.
Apple Maps offers only a handful of options once you have claimed your business listing. Apple Maps allows you to change the basic information, such as your business name, number, address, categories, hours of operation, website URL, and social channels.
While you can establish your company hours, unlike Google, Yelp, or Bing, you cannot create holiday business hours or special operating hours.
You'll also notice that Apple Maps does not allow people to add business reviews through the mapping service. Photos are also unmanageable through the service. Apple receives those from other sites like TripAdvisor and Yelp, so you'll need to make that any reviews from third-party sites are primarily favorable. If someone's complaining about your business, resolve it ASAP.
Apple is in the process of reimagining its mapping service from the ground up. It will rely on first-party data from iPhones and its roving fleet that is equipped with sensors and cameras. Its mission is to create the best practical and graphically appealing mapping program.
Apple is likely to enhance Maps Connect, making it easier for businesses to manage their listings. But, in the interim, every local business should use the existing Apple Maps Connect feature to claim and enhance their local listing.
The Advantages of Adding Your Business to Apple Maps
Adding your business to Apple Maps has numerous advantages. However, these advantages are likely to change as Apple Maps improves and expands.
Expand your reach among Apple users.
Every business owner can benefit from reaching out to this large client base. While many of these clients use other navigation apps, some already use Apple Maps, so putting your business there can help you network more efficiently.
Ensure accuracy in your claimed listing.
Because your business may already have a listing on Apple Maps, claiming your business listing allows you to double-check the accuracy of all existing information.
Increase your visibility.
Your company requires visibility, engagement, and interactivity to attract more customers or clients. List your company on Apple Maps to attract more attention from a larger audience.
Be more proactive.
While Apple's mapping service isn't the most popular navigational app (yet), it is improving rapidly. As more people use it for both navigation and finding stores and service providers, adding your business will help you maximize Apple Maps' growing commercial benefits.
New features are being added to Apple Maps.
Apple's products are constantly developing, and Apple Maps is no exception. For example, the engineering team is testing whether Business Chat (now in beta) is feasible. Business Chat will allow businesses to speak directly with people through the mapping service—no more jumps to another app, just pure Apple Maps goodness.
Business Chat provides business owners the opportunity to give excellent and on-demand customer support when it matters most. You'll be the first to benefit from these exciting new capabilities when they go live—ahead of your competitors.
Google Maps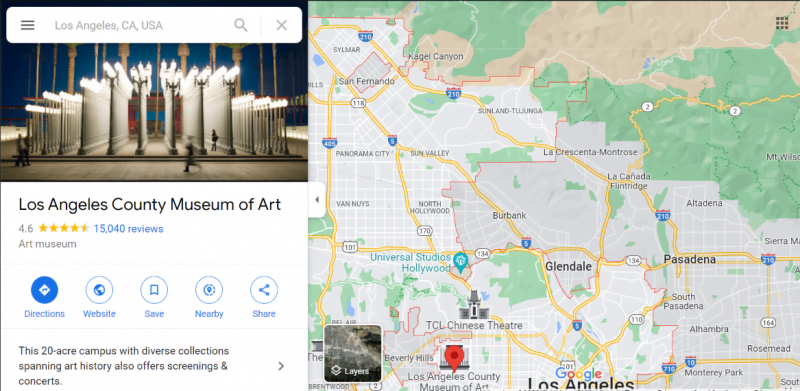 Google Maps is dominant in the maps app/GPS navigation market. It occupies the number one spot through its combined preinstallations on Android devices and active installation through the Play Store and App Store. The search engine will prioritize Google Maps, and Google Maps is a function of any Google Business Profile (formerly Google My Business). Google Maps presence is at the heart of Google Business Profiles.
If you're unsure if you're already on Google Maps, open the desktop version or the app (download it if you don't have it yet) and tap the search bar. Type your business name and wait a second so Google Maps can zero in on your location. If it cannot find your business, you need to add it manually. Suppose you already have a verified Google Business Profile. In that case, your business is already on the map, and it would be best to focus on optimizing and updating your Google Business Profile instead.
Use Google Business Profile to claim or add a business: 
Type the address on the search bar.

Click "Add Your Business" in the Business Profile section.

Click anywhere on the map using your right mouse button.

On the next page, click Add Your Business.

Follow the prompts, and you're done.
Use Google Maps to claim your business:
Open Google Maps on your computer.

Enter your company name.

Choose the right one from the list. Click the business.

Then select Claim this business and Manage Now.

Click I own or manage another business to choose a different company.

Choose a verification option and follow Google's instructions.
GPS Data Team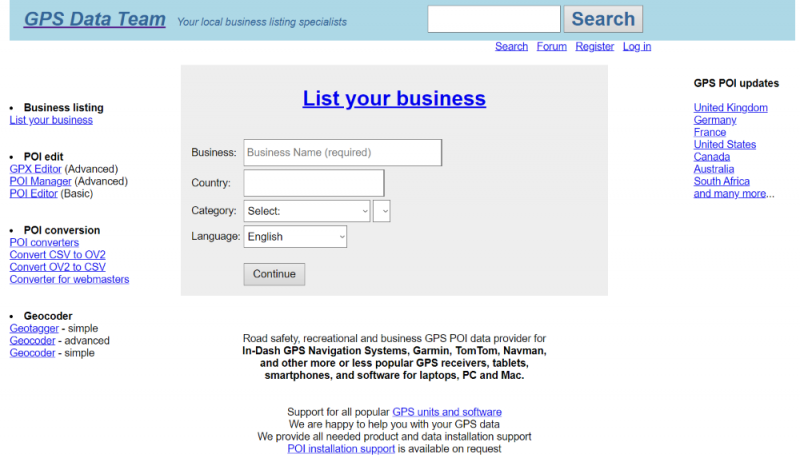 GPS Data Team is a free service that provides businesses an easy way to add their businesses to GPS databases. The GPS Data Team provides POI data to various well-known brands like Garmin and TomTom. Their website is super straightforward; you won't get lost at all. You can start adding business information on their home page the moment you arrive:
Type your legal business name next to

Business.

Select your country.

Select the specific business category that applies to your establishment.

Select the default language for your business.

Press Continue.

Continue filling out the required fields on the next page:

Business address

City/place

State

Post/zip code

Phone

Fax

Number of employees

Office email

Website

Business description

Upcoming and recurring events

Special deals and offers

Spoken languages

Opening and closing hours

Holidays and special hours

Name

Email
OpenStreetMap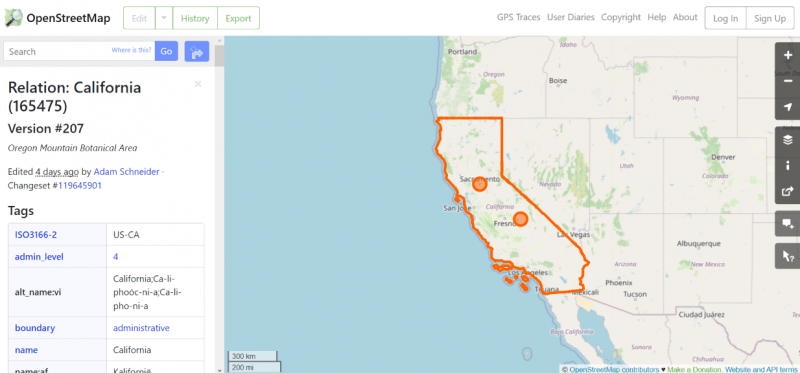 OpenStreetMap is a completely free, public, and open-source map database used by countless organizations and individuals globally. OpenStreetMap is community-driven and has a global reach. Local variations within the map database exist, and they serve locals better depending on the situation. User feedback is that the data quality is excellent, and it's easy to import map data onto GPS devices.
Although minor local variances exist, OpenStreetMap provides global map data under a consistent tagging scheme. The mapping data is also available for every country on the planet. In addition, anyone can help enhance the map quality because the database is public and open.
OpenStreetMap places a premium on local knowledge and allows anyone from all over the world to contribute. As a result, the entry hurdle is minimal, and there are several methods to contribute that do not necessitate the use of cutting-edge technology. In addition, local specialists are known for enriching the map data regularly.
Business owners like you can be considered local specialists. You can add your business to the existing map data through a custom POI and enhance data in your neighborhood. Ultimately, these efforts make navigation easier, safer, and more productive.
There are no data releases from OpenStreetMap. However, contributions to the map are immediately released to the entire system. You decide how current your OpenStreetMap data should be, up to the minute if you find that necessary.
Follow these steps to start adding locations to OpenStreetMap:
Go to OpenStreetMap.Org. Click on the Sign Up button. You can sign up with your email or use third-party accounts like Google and Github to open an account.

Find the general location or area that you would like to edit.

Zoom in until you find the exact spot on the map.

Click the Edit button above the map.

Click on the building or structure that you'd like to modify. Clicking on a structure on the map should open an interface on the lefthand side of the screen where you can fill the database with the correct details about this location.

You mustn't copy and paste copyrighted information from other sources here. Use only your original writing. If you find anything from different databases like Google Maps, you can take inspiration but never copy.

Once you've added all the relevant information about your business, hover over the Save button and click.

Another interface will open. Write a comment describing the edit you have just made to the local map. Then, add an understandable description and press Upload.

Your edit will be immediately uploaded to the OSM database.
How Do Points of Interest (POI) Work? 
Consumers' interactions with businesses and places around them have shifted dramatically. For example, ride-sharing services like Uber and Grab have mostly replaced traditional hailing cabs on the street.
Instead of queuing or setting appointments at their favorite restaurants, people get their food delivered to their doorstep. From buying clothes to running errands, from locating housework or laundry services, and so on, there is an app for everything. It's hard to believe that we have ever lived in a world without all of these services.
POI data is becoming increasingly important as the number of 'at your door' services grows. However, providing these services without a precise location reference would be challenging. For example, to pick up the next passenger, Uber drivers need to know the exact location of the restaurant, and it makes sense for a fast-food company to open a new site in a booming residential area where customers are underserved.
What is a POI (Point-of-Interest)?
A POI (Point-of-Interest) is a map record of a location that someone finds interesting or useful. A POI is usually specified by its geographic coordinates and a few other variables such as name and category.
What is the Purpose of POI data?
Businesses might benefit from information about a given site or a group of comparable areas to make better decisions. POI can create significant information structures that enable robust analysis and planning when combined with additional contextual elements like human mobility, area dynamics, and more.
POI data has a wide range of uses and applications in various industries. For example, it is used in navigation systems (for maps or apps like food delivery, errands, online retail, and so on), urban planning and architecture, supply chain logistics, transit management, and other areas.
To discover and supply relevant services, both users and businesses require timely and precise locations. Businesses need POI data to network with their consumers in the actual world. Users also use POI data to explore their surroundings to access emergency services, transit, and shopping opportunities, among other things.
What Are the Methods of Obtaining POI Data?
Extracting POI information from the Web
Some providers utilize automatic extraction of POIs from web sources such as OSM and Google Maps.
Some providers utilize automatic extraction of POIs from web sources such as OSM and Google Maps. Some businesses employ web scraping software to save POI data directly to a file or database. While some websites, such as OpenStreetMap, allow for the extraction of geospatial data points, others actively restrict bulk scraping by employing temporary methods such as IP blocking. It is not unlawful to get around these, although strongly discouraged.
Overall, this method is labor-intensive and time-consuming, making it unsuitable for large-scale POI projects that require a massive volume of data. Furthermore, to be used for any scientific analysis, the POI data obtained from various sources must also undergo extensive data preparation and checking.
Google Maps and other location algorithms rely significantly on companies and places providing their data. If people do not update these data points freely, information may become outdated, resulting in data inconsistency and inaccuracies.
User-Generated POIs
The use of social media, and hence user-generated material, such as location data, has increased dramatically over the last decade.
Many companies rely on user-generated location data or buy it from companies that run programs that gather it. Remember the last time you used your favorite social networking app? You probably added or verified a new location for a location data collector.
Location data collectors record users' pinned locations, then construct their POI records based on the information. However, user-provided geographic data does not ensure accuracy because it is dependent on hardware, application location permissions, and precision settings. Unintentional user errors can also harm quality.
Government Databases and Directories 
As part of the business registration procedure, most government agencies ask enterprises to submit their commercial address. These postal addresses can be combined to create a POI dataset.
Many countries make this information available to the public. Singapore's ACRA, for example, makes historical and current data on 1.5 million corporations available for public usage, study, and application development as part of its open data strategy.
On the other hand, businesses close, grow and relocate offices or function from a site other than their official registered address. Because they may not regularly update this data with the government body, the data may become obsolete and erroneous over time.
Manual Verification of POIs 
Some POI data providers pay or contract employees to manually maintain their database, including traveling around the city with a smartphone running an app, adding new locations, and confirming existing ones. Compared to other methods, this strategy ensures accuracy and a steady stream of POI data.
This data collection strategy also avoids invading users' privacy and selling their location data. These purpose-built apps do not save, gather, or exchange any data other than the physical location. Manual verification does not involve tying context back to an actual human being and their mobile device.
POI Formats/Representations 
POIs can be plotted on a map in various formats, each with its granularity and data representation. POI attributes can specify a location on a map and define its spatial relationship with nearby locations using these formats.
Coordinates
Geographic positions on apps like Google Maps are called coordinates, and they are commonly given in latitude and longitude (Lat/Long). Therefore, a POI can be recognized using only the latitude and longitude as data points. These data can be gathered using GPS-enabled devices or satellite-based mapping devices.
It is possible to establish a more extensive virtual border for a real-world geographic area using several coordinates, known as a Lat/Long Boundary or Geofence. For example, a radial boundary or a polygon constructed by linking various Lat/Long points can be used as a border. These boundaries aid businesses in identifying and assessing points of interest (POIs) within a particular area to develop trends and patterns.
Local Postal Codes 
A POI's physical address, which commonly includes a government-assigned Pin, Postal, or Zip Code, is another frequent way to describe it. The postal code system, which was designed to aid mail carriers in sorting and delivering mail effectively, has now become extensively used to locate a site of interest. On the other hand, postal codes do not have a universal standard.
A postal code can identify a particular housing block in some countries, such as Singapore. Hong Kong, on the other hand, despite its size and population, does not utilize postal codes like this. Most places are in the middle, where a postal code isn't adequate to define a specific point of interest.